We are excited to announce that we've been named in the Top 10 in the Consulting category globally by Clutch.co (#8), based in no small part on the feedback and consistently high NPS from our clients!
We are grateful to our clients, partners, and everyone who's contributed to our success this year! Your belief in us, partnership, willingness to teach us about your businesses, and of course time taken to recognize our impact touches us and powers us forward. We look forward to new opportunities to earn your trust, your business, and your thought partnership in 2023 and beyond.
Our Mission Driven Pricing framework and Values fueled our ability to deliver impact across a variety of clients, from billion-dollar leading global brands like Birkenstock or General Mills, to small nonprofits in our community with global significance like the Judy Garland Museum.
We are also proud of the entire EBITDA Catalyst team, and thank the external partners and providers who allowed us to deliver big impact with a small client-facing team, relying on our Just-in-Time (JIT) approach to supplement our strengths only when needed and proven high ROI to the client.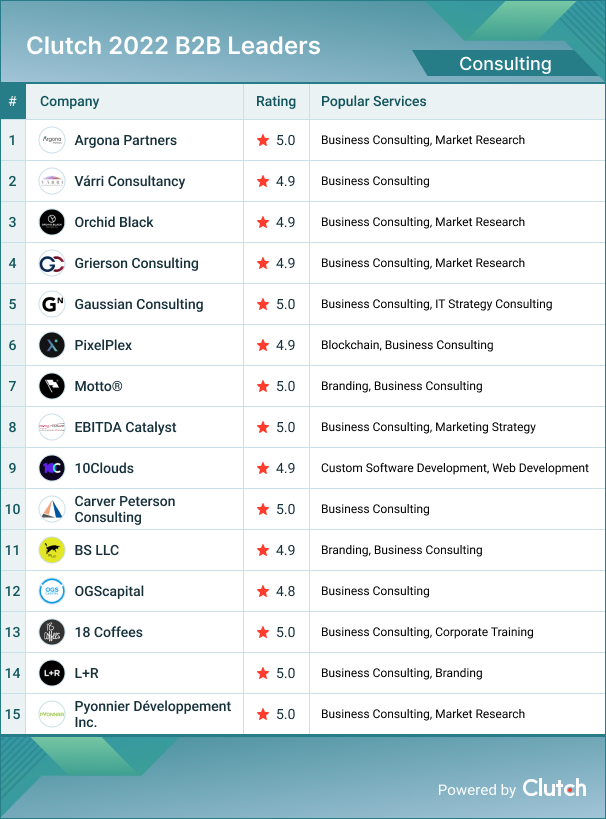 According to the Clutch.co press release, the Clutch Leader Awards puts the spotlight on the top-performing leaders who play a crucial role in the industry and in their clients' growth. The recipients of the honor are from varying service provider sectors across the globe, from Accounting, to BPO.
To be selected for the award, firms must have extraordinary industry expertise and the capability to deliver stellar results. Analysts from Clutch evaluate companies on the following metrics:
Services offered

Former clients

Case studies

Awards received

Social media presence
Said Clutch Director of Strategic Partnerships Eleonora Israele: "We at Clutch are extremely proud of the success and impact of the leading global business services providers. It has been fantastic to see their journeys."
Would you like to learn more about our client success stories or the unique approach we call Mission Driven Pricing? Do you need help with a project that would benefit from our strengths?
Please get in touch with a free introductory call!
With hearts full of gratitude,
The EBITDA Catalyst Team
PS: Other Clutch.co awards we received recently: